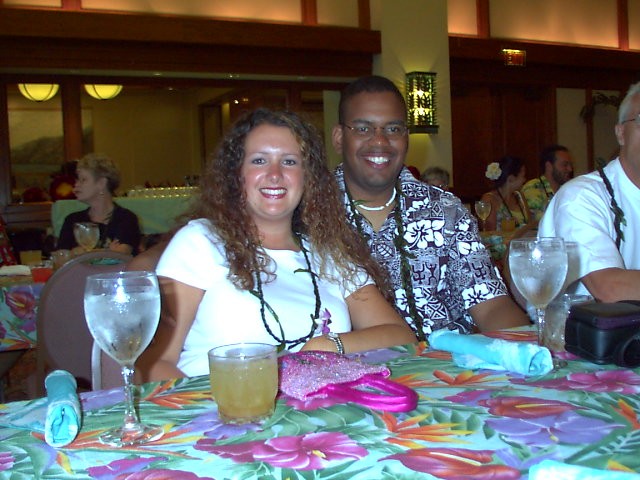 A luau traditionally includes a variety of festive, colorful foods. When deciding what luau dishes to serve, consider that you will want to spend time with your guests and not cooking the entire time. Serve simple luau food recipes that are easy to prepare and easily replenished throughout the luau festivities.
Lomi Lomi Salmon
To make the perfect Lomi Lomi Salmon, be sure to combine the ingredients true to the meaning of the Lomi Lomi name, which means "massage" in native Hawaiian language. This recipe is courtesy of Aloha Friends Luau.
1 ½ lb. salmon fillets
Sea salt or kosher salt
3 medium tomatoes, diced
1 small onion, diced
¾ tbsp. lime juice
1/8 tsp. Tabasco sauce
1 tsp sugar
1 tsp pepper
Sprinkle salt across bottom of glass dish. Lay the salmon on top of the salt. Sprinkle additional salt across the top of the salmon. Cover dish with plastic wrap and refrigerate overnight.
Next day, remove salmon and rinse the salt off. Dice the salmon. Mix the tomatoes and onions with the salmon, followed by the other ingredients. Chill until ready to serve.
Coconut Fried Shrimp
¼ c all-purpose flour
1 lb shrimp, cleaned and deveined
1 beer
¼ c coconut flakes
Place flour in small bowl. Pour beer into separate small bowl. Coat the shrimp completely with flour. Remove from flour and dip in the beer. Roll in coconut flakes. Deep fry each shrimp for 1 ½-2 minutes. Remove from deep fryer and serve on a bed of rice. Top with Orange Lime Sauce.
Orange Lime sauce is an excellent topping for Coconut fried shrimp, but you may find it to be the excellent finishing touch for some of your other luau recipes.
Orange Lime Sauce
10 oz jar orange marmelade
3 tbsps tangy mustard
1 tbsp lime juice
Combine all ingredients in small sauce pan. Heat just until warm.
Grilled Hawaiian Chicken Kabobs
No luau is complete without Hawaiian-inspired kabobs. While this recipe is for Hawaiian chicken kabobs, it is very easy to substitute other meats such as pork or beef or even meat-free kabobs. Add an assortment of fruits and veggies as desired.
3 tbsp soy sauce
3 tbsp brown sugar
2 tbsp sherry
¼ tsp each ginger and garlic powder
8 boneless, skinless chicken breasts cut into 2 inch chunks
20 oz can pineapple chunks
Skewers
In shallow glass dish, mix soy sauce, brown sugar, sherry, ginger and garlic powder. Stir in chicken and pineapple chunks. Refrigerate for 2 hours. Heat grill and lightly oil the grill grate or lining covering grill grate. Assemble kabobs, alternating chicken and pineapple chunks. Grill for 15-20 minutes, turning occasionally, until chicken juices run clear and chicken is no longer pink inside.
The Slow-Cooker Kalua Roast Pig
The Oven Kalua Pig is a popular luau dish, but there is a better way to prepare it which will free you to attend to other luau recipes and preparations. Slow-cooker Kalua Pig is perfect for the luau.
3 lb pork butt
1 ½ tsp liquid smoke
2 ¼ tsp Hawaiian Salt, sea salt or kosher salt
Pierce pork all over with meat carving fork. Rub salt and liquid smoke into meat. Cook in slow cooker for 16-20 hours, turning once during cooking process. Remove meat and shred. Add juices from slow-cooker to shredded pork.
Fresh fruit is essential at a luau
Fresh fruit is very important as part of the luau feast. Whether you serve slices of fresh fruit, add fresh fruit to kabobs or make a delicious simple fruit salad, colorful fruits add to luau festivities.
Fresh fruit plate
Select several choices of fresh fruits. Choices will of course include fresh pineapple. You may want to include slices of oranges, melons, mangos, strawberries, papaya or any other fruit that may be in season in your area. If you use bananas, remember that bananas may turn in a short time. Cut fruit into chunks or slices and arrange in large bowl. Remember to scatter fresh coconut over the top of the arranged fruit.
Dessert is almost as important as the main dish to many luau-goers
Desserts need not be something that you have to labor over for hours. Consider such delicious and satisfying desserts as a simple boxed pineapple upside down cake, prepared as directed. You may also wish to include other easily-prepared luau desserts such as the very simple individual dessert recipe for Hawaiian Oranges.
For each serving,
1 medium orange
1 tbsp brown sugar
Pinch of cinnamon
1 tbsp rum
¼ oz margarine or butter
Peel orange and divide into segments. Place orange segments on a piece of aluminum foil. Turn sides of aluminum foil up and then sprinkle with the brown sugar, cinnamon and rum. Dot with the butter. Wrap securely in foil and place on grill. Grill for approximately 15 minutes, turning once.
Whether your luau will have six guests or sixty guests, there are a variety of main dishes, salads and sides and scrumptious desserts to make your luau very memorable.
Source:
1. Easy-to-Make Luau Food – You
2. Rice Diet Menu
3. Luau Party – Allrecipes Dish

Image Credit
sc2mommies.tripod.com